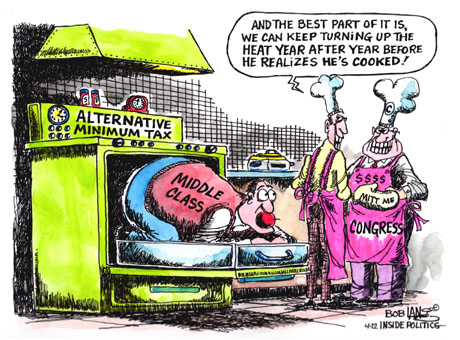 WASHINGTON (MarketWatch) -- Defying a presidential veto threat and warnings by the Senate, House Democrats on Wednesday passed legislation that would offset another year of relief from the alternative minimum tax to middle-class families by boosting taxes on some hedge-fund managers.
The House in a largely party-line 226-193 vote backed a bill that would provide a "patch" shielding around 20 million families from the alternative tax, or AMT, an alternate levy initially aimed at wealthy tax-dodgers that has threatened to encroach on middle-class taxpayers.
The legislation is estimated to reduce revenues by $50 billion - a figure that the package would offset in part by eliminating a tax-code provision that allows hedge fund managers to defer income on some of their compensation by holding it offshore.
"We have an opportunity to close a very unfair provision that we find in our tax code that certainly no one has come to me to defend" and combine it with AMT relief, said House Ways and Means Committee Chairman Charles Rangel, D-N.Y.
READ ON->